Short Runs, Long Runs, 1 Piece or 2,000.
We do it all – Even walk-ins……
Alloy Steel, Stainless Steel, Aluminum, Cast Iron, Plastic, Brass, and Copper
Our resources include 3 CNC lathes (1) 24" x 60", (1) 24" x 70", (1) 18" x 40, and 4 CNC Mills, 2 DPM Bed Mills, 1 Quick Cell Mill, and 1 Retro Fit Bridger Port Mill.
Heisey Machine's fully outfitted shop includes a Sunnen Hone, a Morris Key Seater with 3/16" to 1-1/4" straight or tapered key capabilities, Surface Grinders, and 2 Mig Welders, many manual mills and lathes.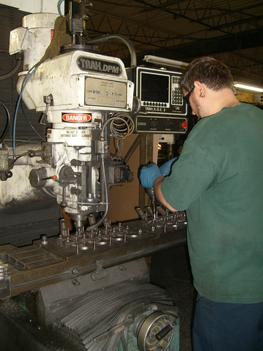 Working Together – Your design or ours…
We have the ability to fabricate weldments and assemblies to your specifications or we can work with you to custom design the part or make the parts you need.
We work with several local vendors for Heat Treat, Powder Coat Painting, Platers, Laser Cutters, and more. Allows us to take your product from start to finish.
Our staff has a combined 60+ years of experience in the Machine and Fabrication trades. We service many industries and companies including Mack Volvo Trucking, The Buck Co. Foundry, High Steel Industries, just to mention a few. Why not let us serve you?
The Vision
Selling Float Subs and Drilling Tools Worldwide